Martini Reception Desk
Front Counter for Salons
Sign up or login for Trade Price + Shop
Make a Toast to Style with our Martini Reception Desk.
Welcome your guests with a splash of elegance and a dash of panache with our Martini Reception Desk. Just as a martini glass exudes sophistication, our reception desk encapsulates the same allure, crafted with care and attention to detail.
Get swept up in the ripple wavy details that dance across the glossy creamy surface, echoing the vivacity of a delightful cocktail. A gold marble vein textured bench top elegantly crowns the desk, adding a layer of luxe to your salon's entrance.
The Martini Reception Desk is designed with rounded curves, evoking an organic, fluid feel. While the aesthetics are sure to impress, the desk's height also ensures privacy, marrying form and function effortlessly.
With the Martini Reception Desk, you're not just introducing a piece of furniture, but a statement of style, welcoming your clients into a world where beauty and elegance reign supreme. Cheers to that!
dimensions & product details
Dimensions & Specifications
Cream Pink Gloss with Textured Marble Laminate
Meet Martini..Always Serving Style
Meet Martini, a fusion of sleek curves and practical design by our in-house Comfortel team. This reception desk is a contemporary muse with a clean, wavy design in gloss cream pink finish. But Martini isn't just a pretty face. With ample storage space, a discreet cash drawer shelf, and a front privacy panel, it keeps your salon essentials organized and accessible. Compact yet functional, Martini is perfect for smaller spaces, making a statement without demanding too much room. With Martini, your salon can effortlessly impress. Cheers!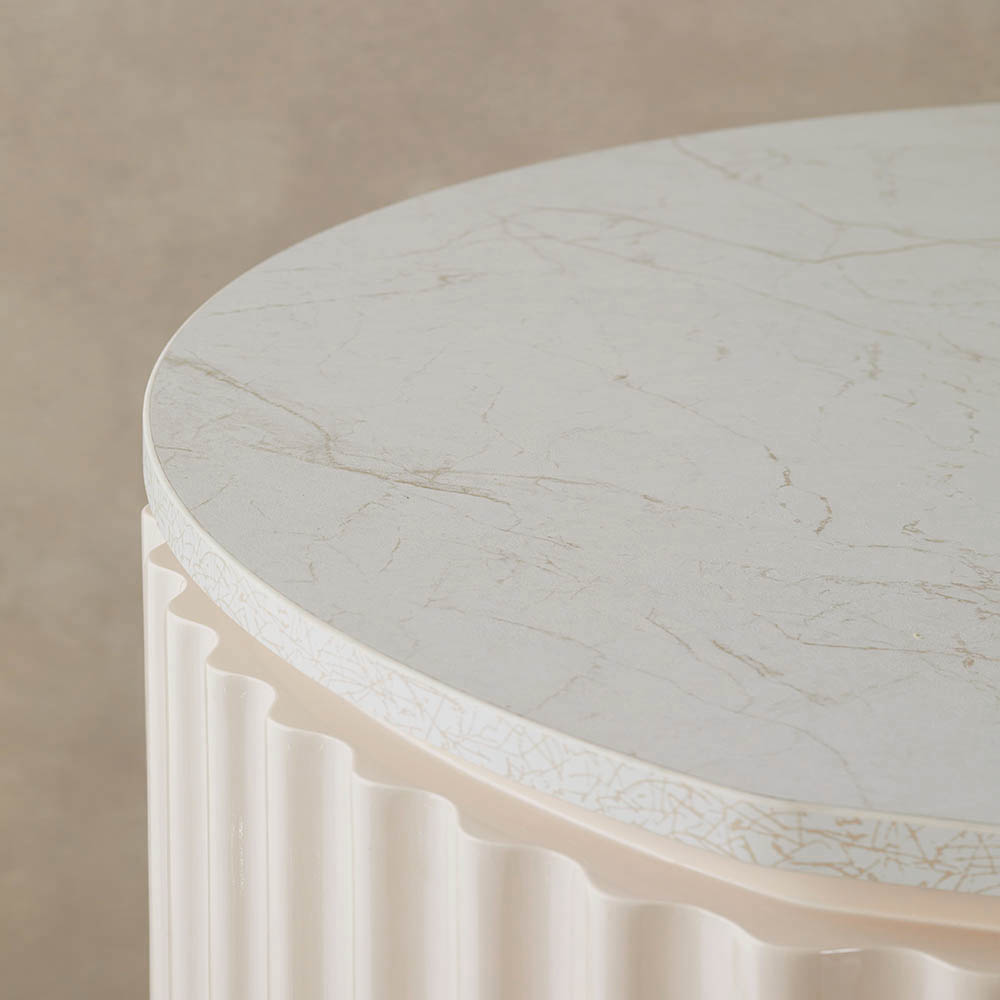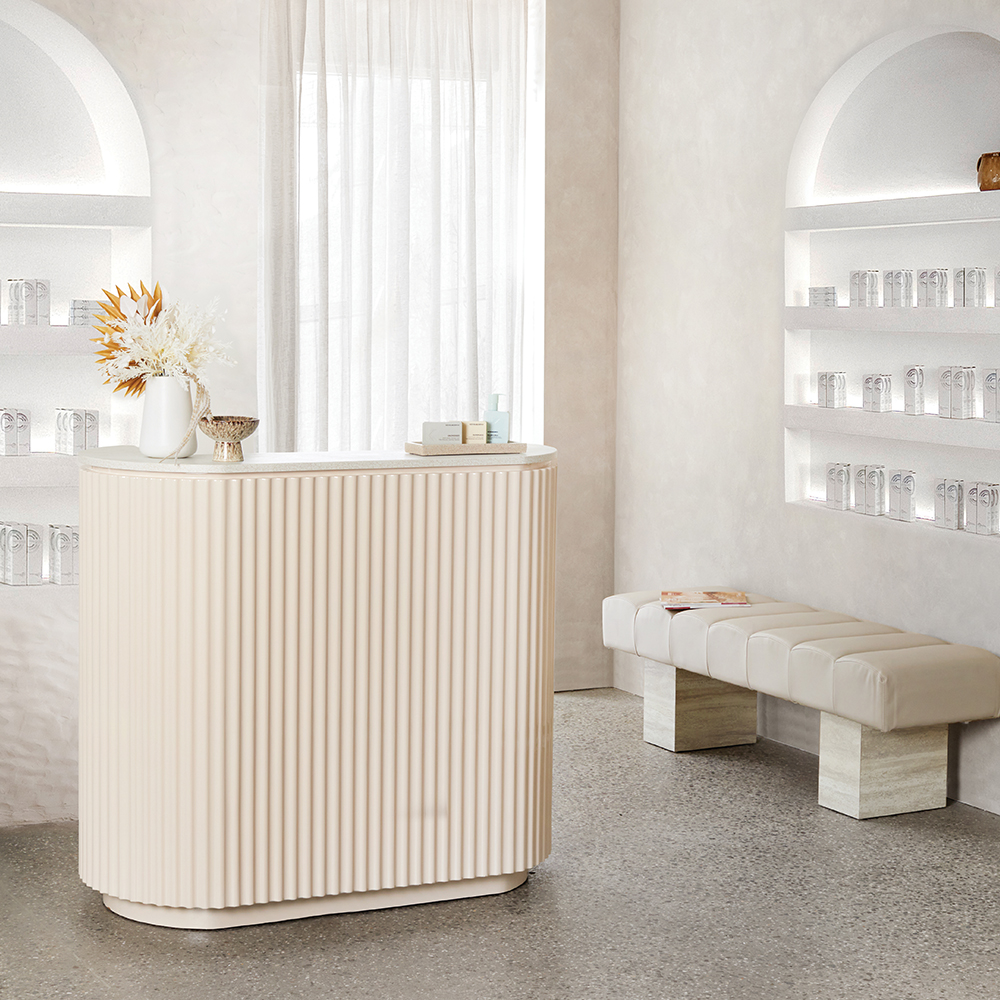 Shaken, Not Stirred
Unveiling the Key Features of the Martini Reception Desk
Ripple Wavy Details
Just as a well-mixed martini dances with vibrant flavors, our Martini Reception Desk enthralls with its ripple wavy details in glossy pink, offering a visually delightful experience.
Gold Marble Vein Textured Bench Top
The desk is topped with a gold marble vein textured bench top, lending a rich, luxurious feel – the perfect garnish to an already exquisite piece!
Round Curve Designs
The round curves of the desk mimic the fluidity of a stirred martini, creating a softer, organic feel in your salon space.
Tall for Privacy
Much like a secret cocktail recipe, our Martini Reception Desk is tall enough to ensure privacy, providing a perfect blend of style and function.
Statement Piece
More than just a reception desk, this is a statement piece that elevates the aesthetic appeal of your salon, adding a dash of sophistication.
With the Martini Reception Desk, you're serving up a cocktail of style, luxury, and functionality. Here's to making a lasting impression!
Martini in style…
Cocktail Hour: Positioning Your Martini Reception Desk
The Martini Reception Desk is a showstopper, and like any centerpiece, it's best when it shines. Start by placing it in a prominent position where it can command attention as soon as clients walk into your salon.
Neat and On the Rocks: Creating the Right Backdrop
Keep the surrounding area minimalistic and let the desk be the main focal point. Opt for subtle, neutral tones for the walls and floors to accentuate the glossy creamy pink and gold marble vein of the desk.
Shimmer and Shine: Illuminating Your Space
For an extra touch of elegance, consider a chic pendant light hanging above the desk or a pair of sleek sconces on the wall behind it. This will not only highlight the desk but also provide practical task lighting.
The Garnish: Accessorizing Your Martini
Remember, the Martini Reception Desk is not just about function but also about setting the tone for your salon. Complement it with equally stylish yet understated waiting sofas and perhaps a textured wall behind it.
Last Call: Concluding Thoughts
And there you have it – a reception area that's more than just a welcoming space. It's a testament to your salon's commitment to style, elegance, and the finest details. Here's to making an unforgettable first impression. Cheers to that!
---

Need more Help?
Visit our Comfortel Product Help & Support Portal
Find answers to your questions about this product.
Get help, download installation manuals, find solutions and more.
---