Art Deco Delight: Frankie & Son Barbershop
Hairdressing
Salon Spaces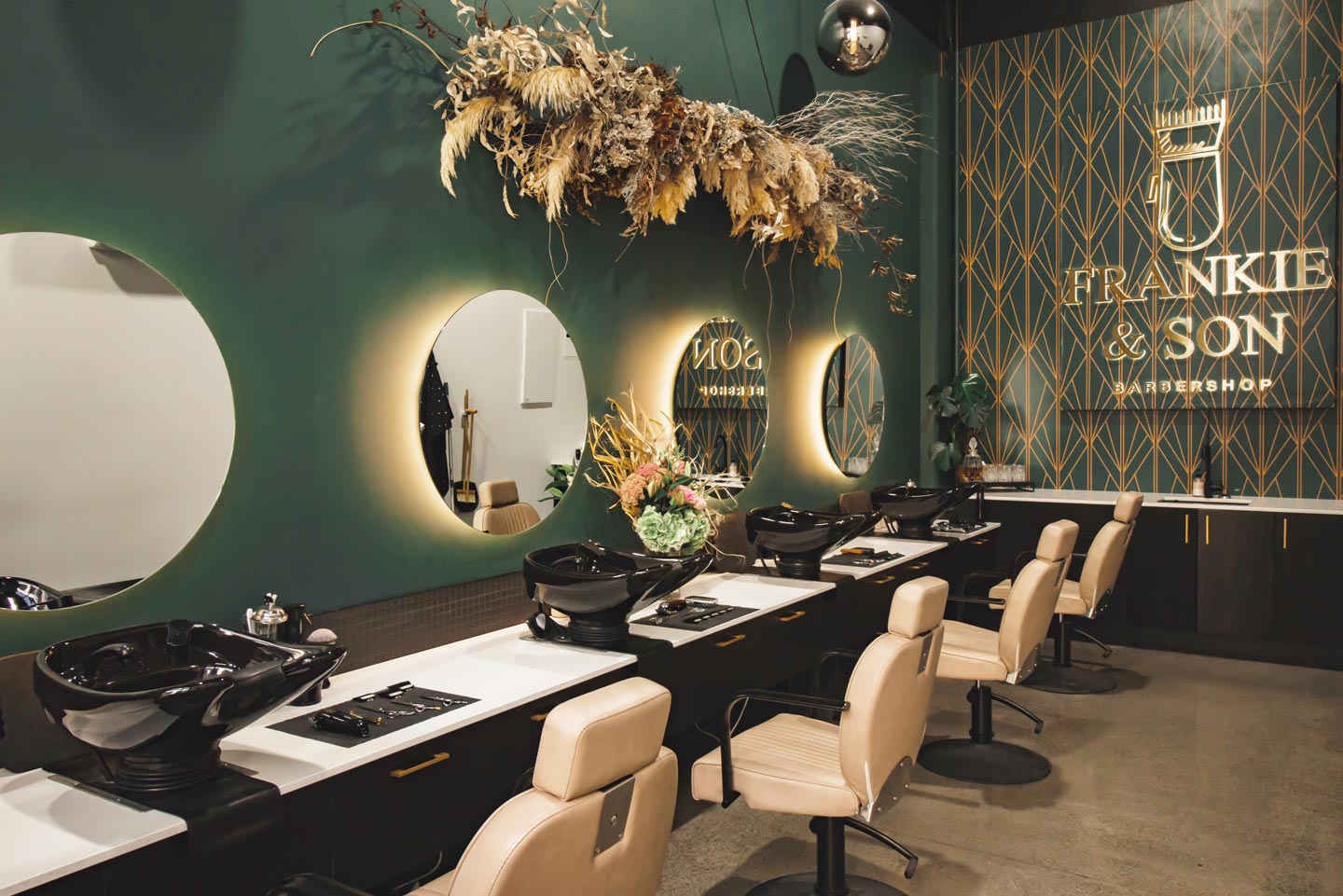 Frankie & Son Barbershop perfects the Art Deco Salon Look
Drawing inspiration from Art Deco interior design of very glamorous, elegant, functional and modern; Frankie & Son created a Barber shop with a difference.

Salon business and design
A family owned and operated business, husband and wife team, Stu Tafua and Tori Wiki drew inspiration from the whiskey drinkers of the 'Great Gatsby era' when designing their salon interior.
Combining geometric and angular forms, striking materials and linear decoration, they have successfully created their own look that is beautiful, yet masculine – a term not often described together.
Named after their own children, Frankie & Sonny, the salon look is not your typical barber shop, featuring dried flowers, plants and an emerald and blush colour scheme.
"We really wanted to create a space that was beautiful but also masculine. I think we have accomplished that with the use of emeralds and whisky browns. We took whiskey as a big inspiration for choice of colours including the brass handles and branding light signage"
With every little detail personally picked and designed by Tori, standouts include the custom decorative g wallpaper as a back drop and the dried flower ceiling arrangement above the stations that steals the show as a statement piece within the salon.
"Our Florals gain a lot of attention from people walking past the shop and we quite often have people asking to take photos of our fit out."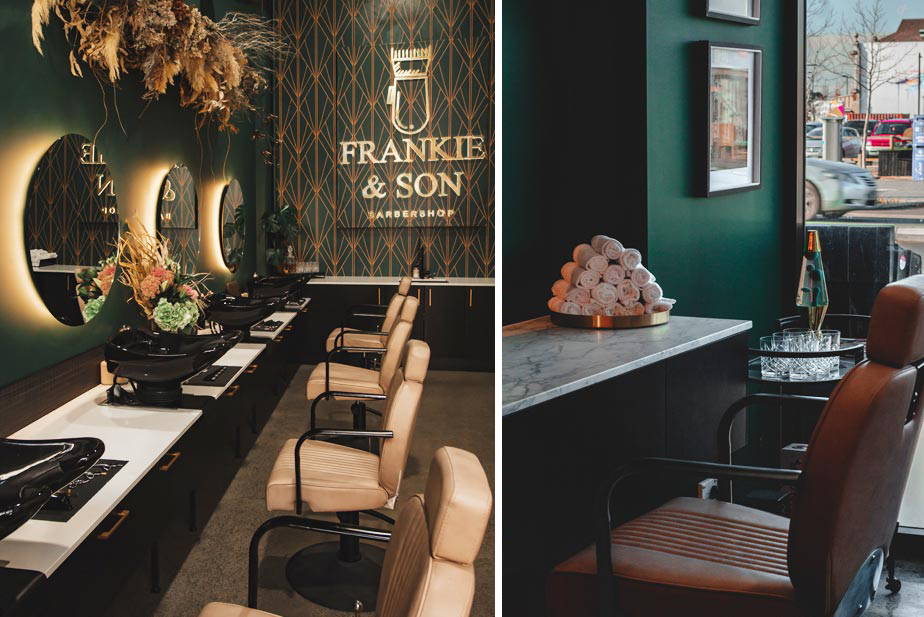 Salon Furniture
Opting for something a little different in salon furniture, Comfortel's Lara Blush Reclining Salon Chair was chosen to compliment the space.  Compact in size compared to the traditional barbers chairs, the blush chair top was paired with a matte black base.  Tori customised the look of their chairs, by going one step further and changing the armrests to black with a local powder coating supplier.
LED Circa Backlit Round Mirrors were added from Comfortel to enhance the light within the space and sliding hairdressing basins were added to custom joinery and cabinetry.
"Our experience with Comfortel has been amazing. We dealt with the team within the Auckland Showroom and they were prompt & helpful with all questions we had regarding the furniture. They were a pleasure to deal with and made the process so seamless."

Get the salon look or take elements to make it your own:
To embrace the Art Deco style, create a layered look by adding in textured wallpaper. Feature geometric shape or angular shapes, but vary texture and material
To get the opulent look, choose deep, warm, and neutral colours that are masculine without being too dark or oppressive
Blend traditionally masculine materials like leather and wood with neutral (yet interesting) lighter fabrics and upholstery
Keep your detailing simple and symmetrical
Get the look with Comfortel Salon Furniture
Barber Shop:  Frankie & Son Barbershop
159 Manchester Street, Christchurch Central, Christchurch 8011, New Zealand
www.frankieandson.com  @frankieandson
Salon Owner:  Stu Tafua & Tori Wiki
Salon Furniture: Comfortel Furniture
Interior Design:   Tori Wiki @toriwiki
Photographer:   Shauni Van Apeldoorn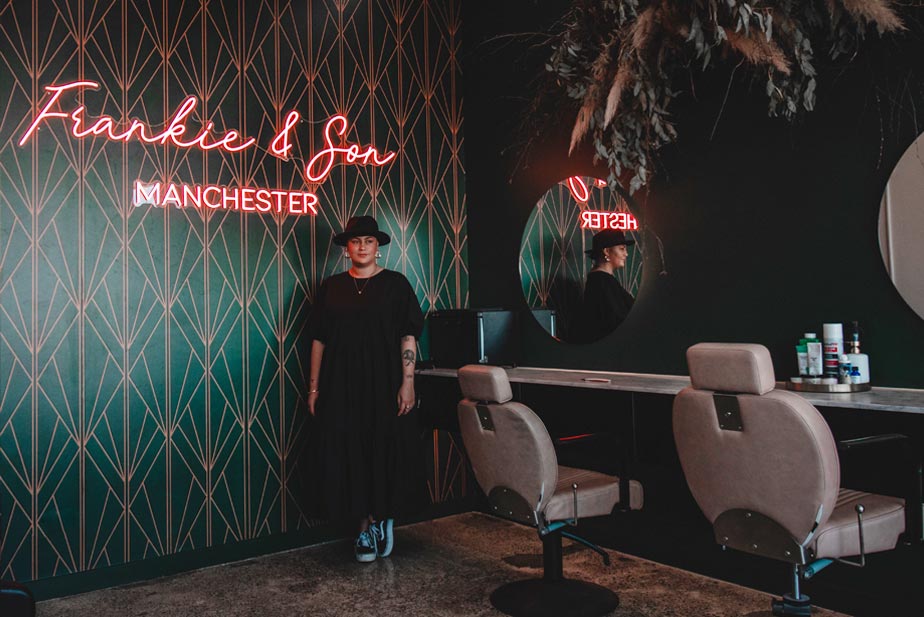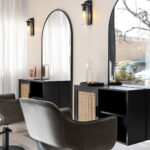 Hairdressing
Salon Spaces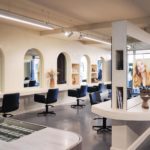 Beauty
Hairdressing
Salon Spaces