Modern Mediterranean: Fuchs Hair
Beauty
Hairdressing
Salon Spaces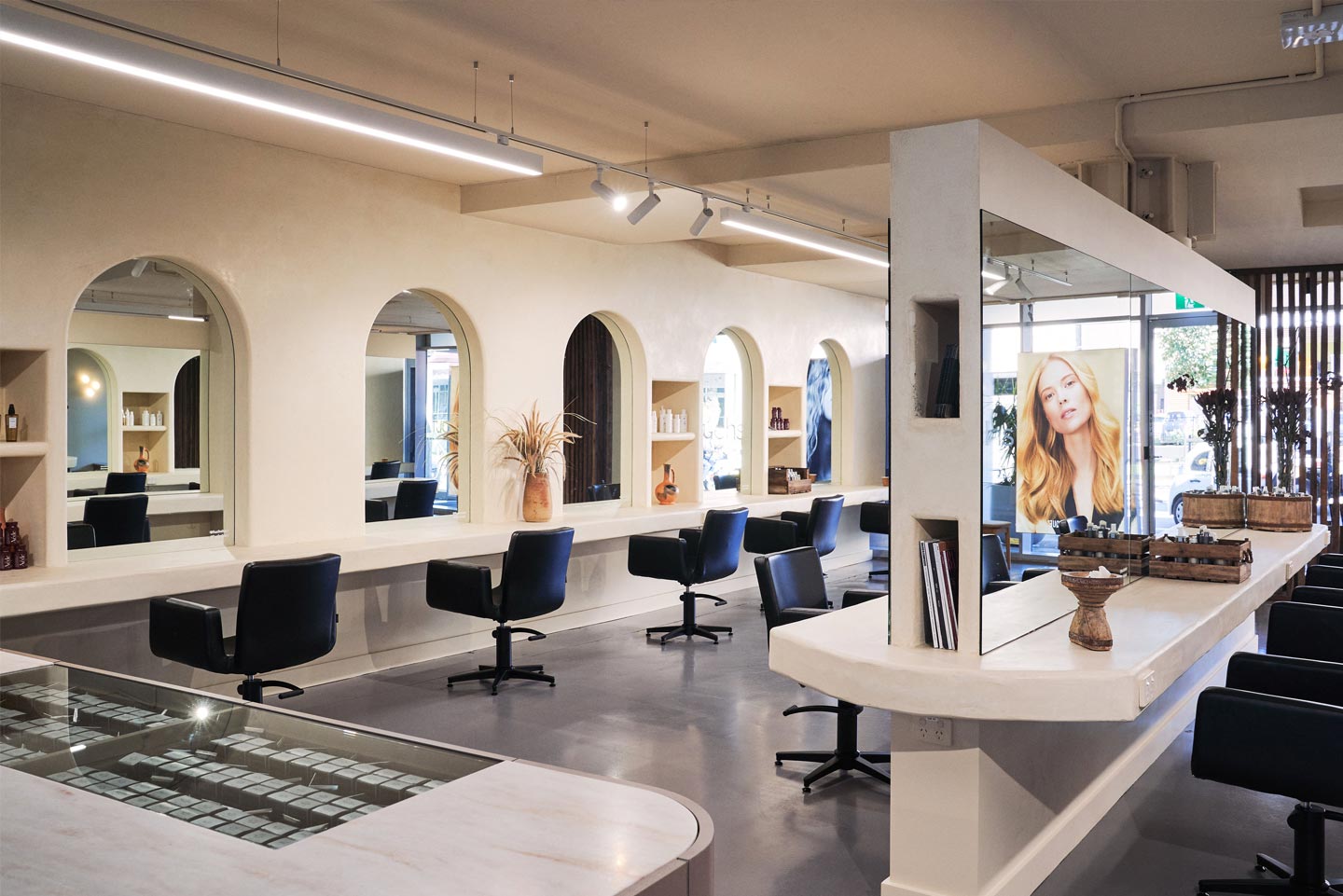 Modern Mediterranean: Fuchs Hair
A neutral colour pallet and clean, curved structural elements have a way of subconsciously relaxing anyone who steps foot into Fuchs Salon. The interior flawlessly integrates Mediterranean features with most customers immediately saying: "this place feels so calm and warm."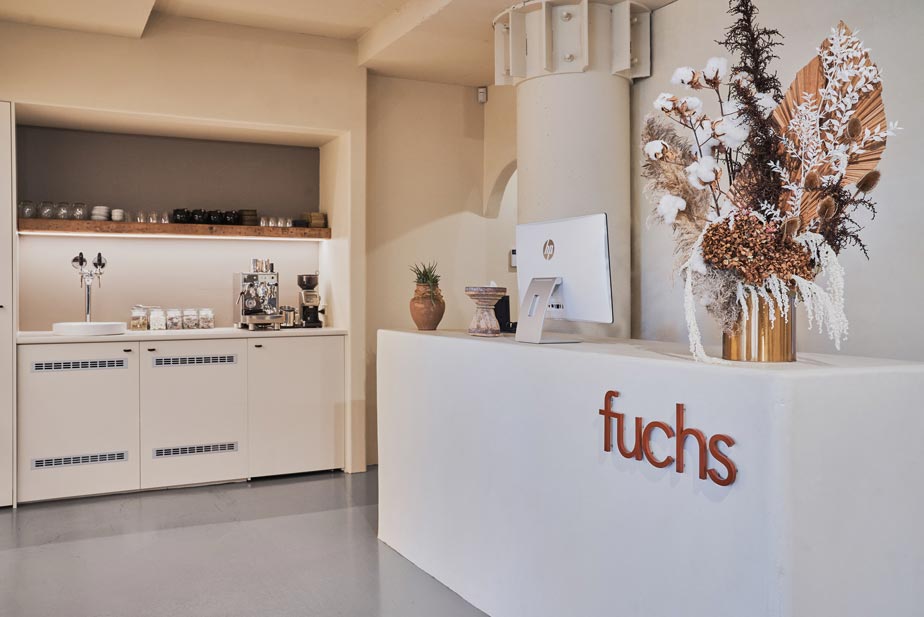 Salon Features
Everything is soft in a quiet and gentle way; the colours, textures and features are pleasingly subtle. Even the light – bright enough for hair styling – feels delicate, filtering through muted tones and bouncing off smooth features in a delicate nature.
Creating an atmosphere of serenity, the salon features round edges – arched mirrors, curved table edges, smoothed benchtops – every element of harshness is entirely removed. A complex layering of neutrals and textures is executed effortlessly; shiny cool toned concrete floors compliment cream Mediterranean plastered walls, with matte off white tables flattering brushed beige washing stations. Sandy timber panels, touches of brushed metallic and textured clay elements finish off the design, creating an overall inviting feel.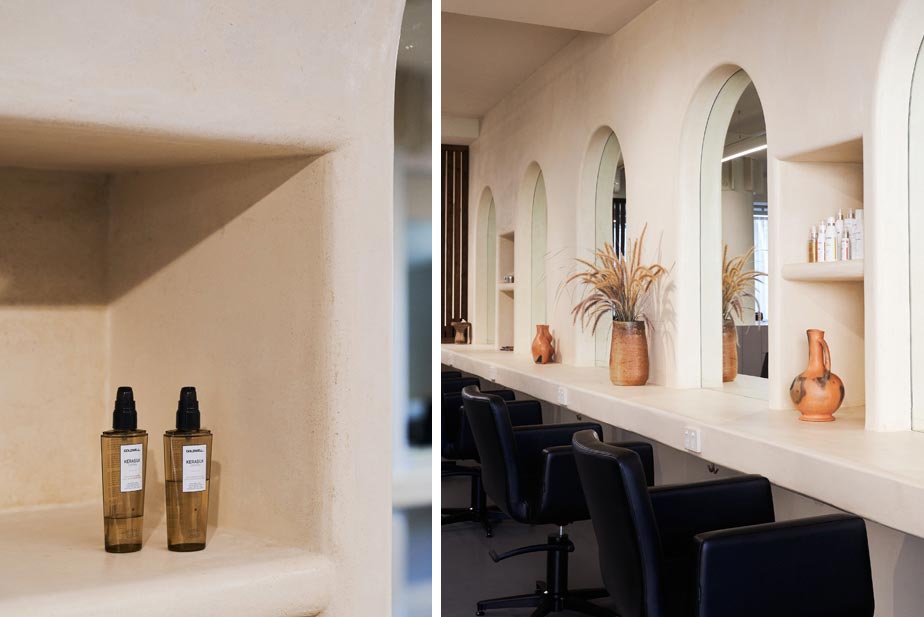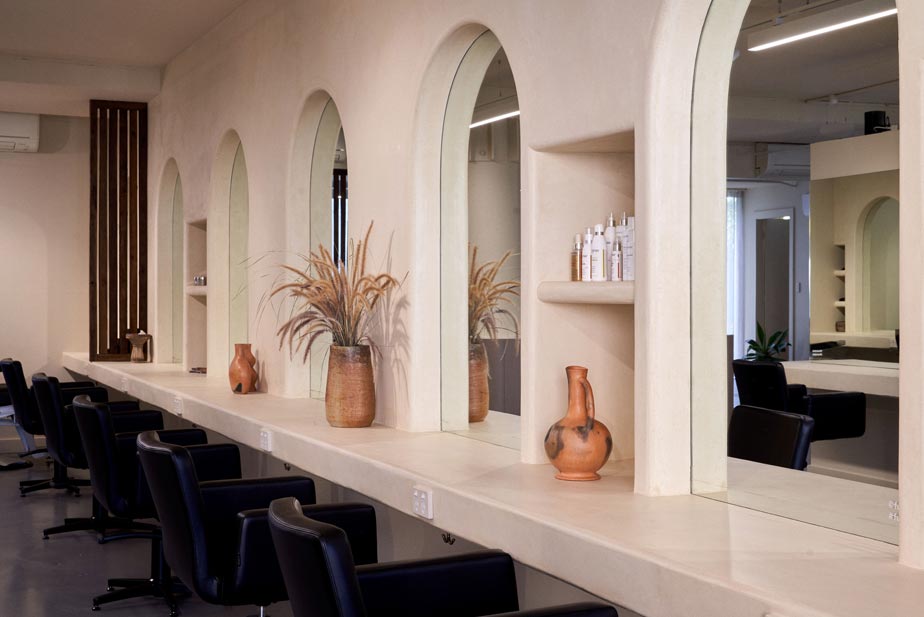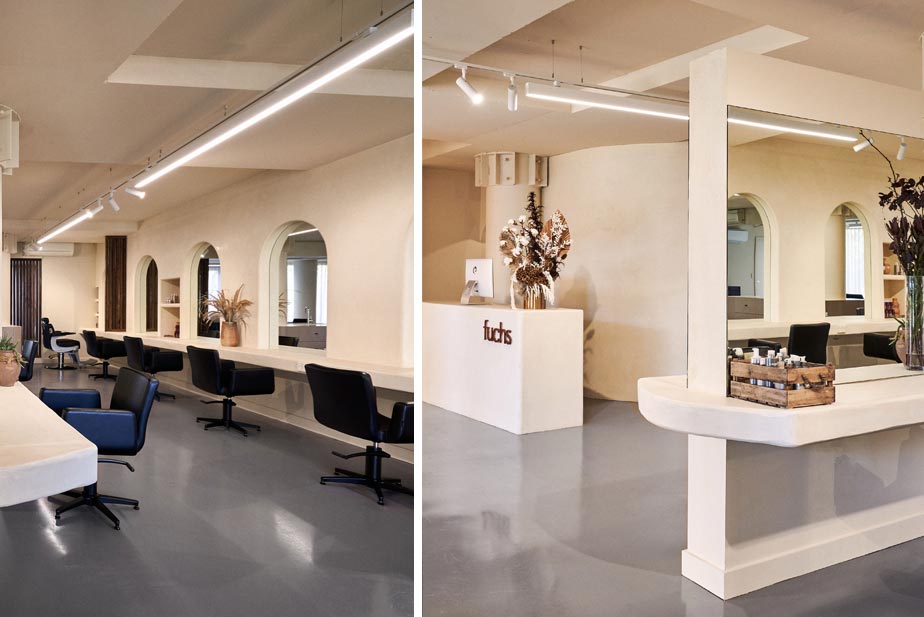 Vision and Design
On his vision for the salon interior, owner Alexander Fuchs says:
"We wanted the new salon to be bright, warm, inviting and relaxing and we very much so looked at Mediterranean spas and wellness spaces as our inspiration, from that we decided on the arched mirrors very quickly as a main feature and started designing the rest of the space around that idea."
Salon Furniture
Comfortel Zara Salon Chairs in black contrast the neutral colour pallet, adding a bold element of sophistication.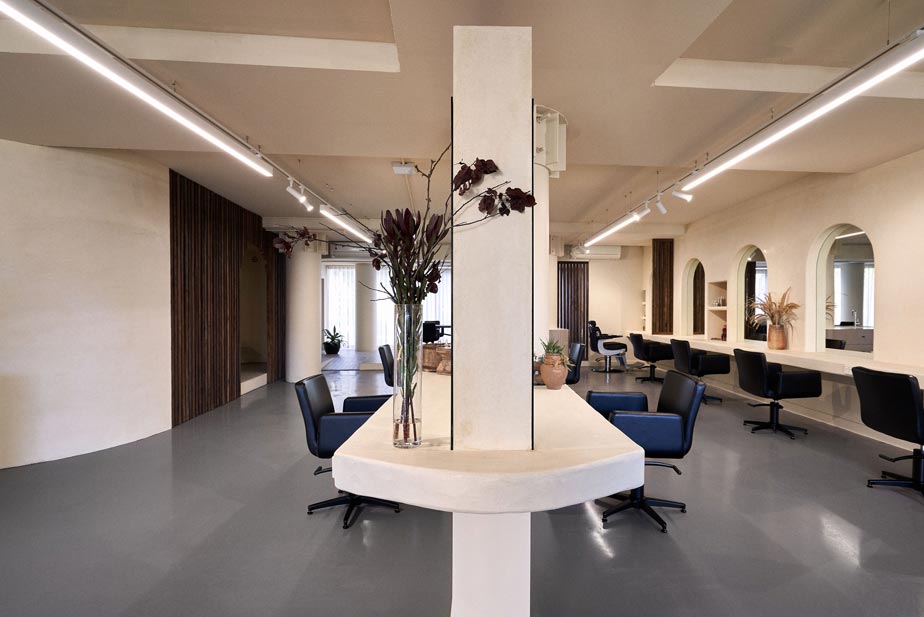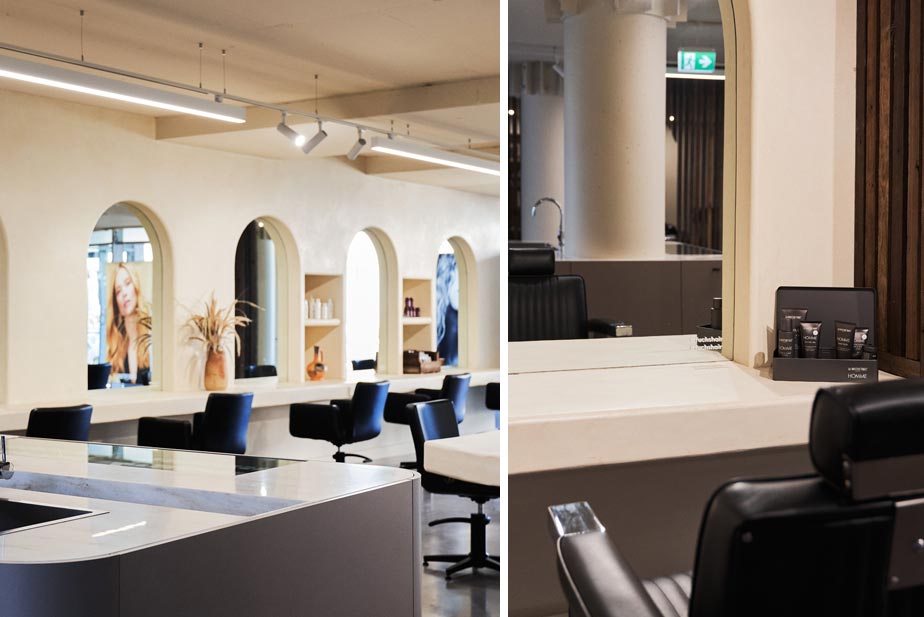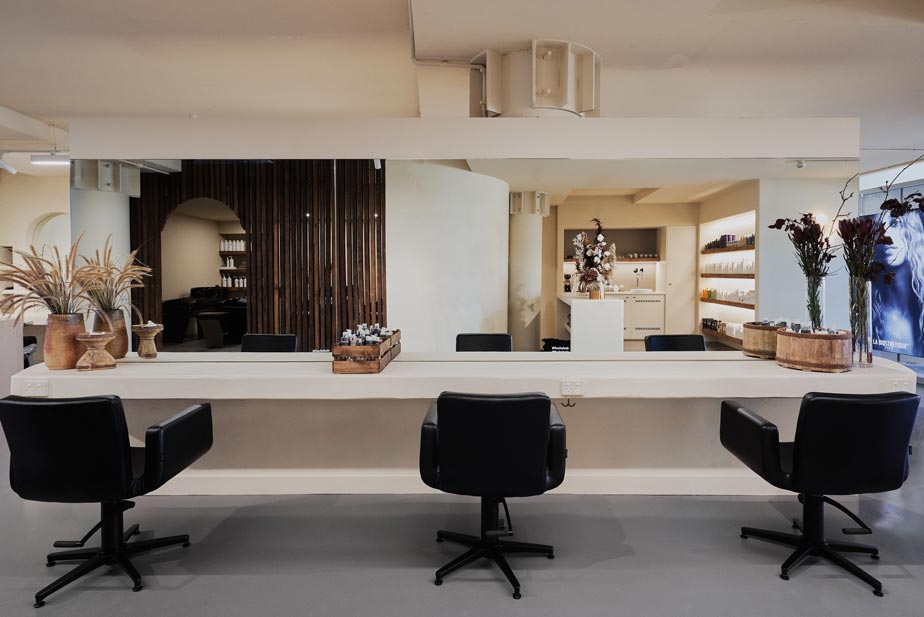 Here's how to get 'Modern Mediterranean' in your interior design:
Pick a neutral colour pallet. Starting off in a restrained manner will leave space for bolder structural elements, as well later additions of smaller, coloured pieces to add dimension and warmth.
Don't be afraid to layer multiple textures. With your focused colour pallet, shiny, natural, brushed and matte elements will integrate flawlessly and add depth.
Go for a linear minimalist outline – carvings, arches and rounded furniture will help create the Mediterranean feel, without feeling over the top.
Add some bolder, deeper, pieces. Dark furniture, metallic light fittings, or rough clay vases will help incorporate the Mediterranean elements in a tempered manner.
Get the look with Comfortel Salon Furniture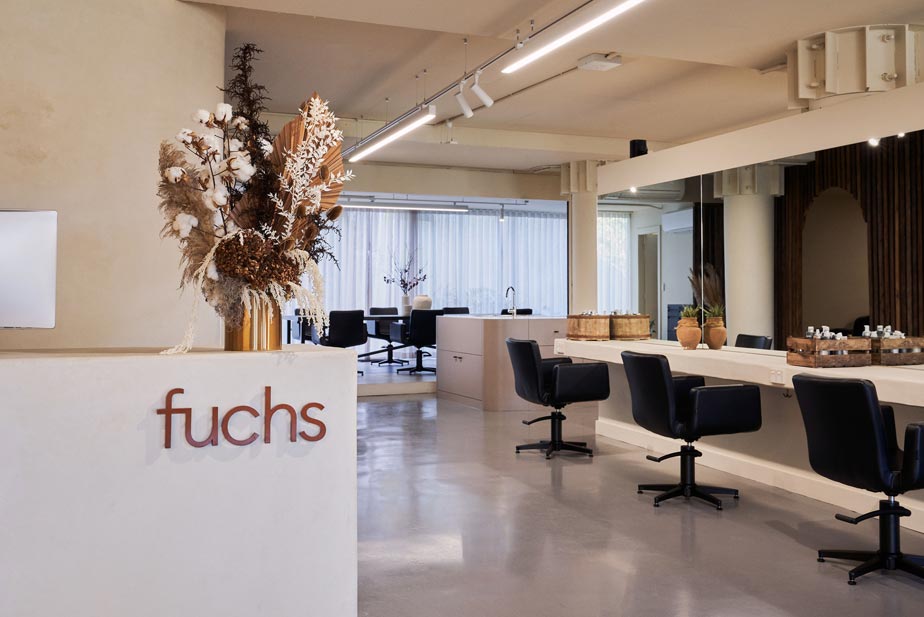 Salon: Fuchs Hair
Shop 1/222 Botany Road, Alexandria NSW 2015   @fuchshair
Salon Owner: Alexander Fuchs
Builder: Daniel Heapy from TwoAcres
Salon Furniture: Comfortel Furniture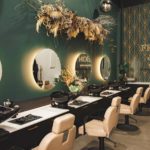 Hairdressing
Salon Spaces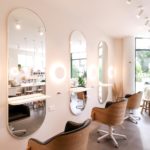 Hairdressing
Salon Spaces