Beauty Salon Interior Ideas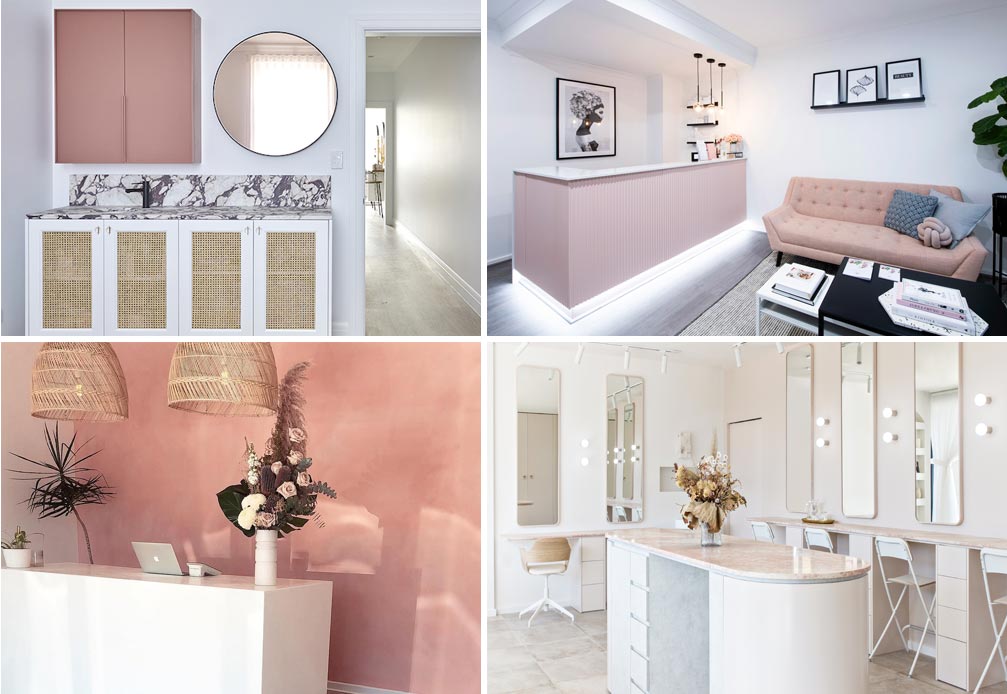 The Interior Design looks set to transform your beauty salon space. 
Here are the looks that are going to dominate salons for the year to come.  2021 is all about looking beyond 'what's trending' and embracing a style you love that represents your brand.  Here's some salon inspiration to transform your space or take elements to make it your own…

Branding Blush
With blush, coral, and nudes being introduced into many salon's branding identity, it's only natural that it is making a huge influence in how salon interiors are incorporating the oh-so lovely feminine hue.  In 2021, you will see more salons embrace their brand colours and not be afraid to introduce it into wall colouring, fixtures, décor and even furniture and equipment.  If it matches who you are as a business, it will never outdate and I'm excited to see more of this influencing more salon spaces in 2021.
From Left to Right:  The Parlour Room NSW @theparlourclovelly, Skin Collective WA @skincollectiveau, Olive & July Beauty Studio WA @oliveandjuly, Anastasia McGrath Make Up Studio & Academy NSW @makeupbyanastasia  Photo credit: The Palm Co. @the.palm.co
Refined Boho
For the Naturalist within, this is a laid-back style that's earthen luxury.  With Byron Bay your design muse, the look is very much about keeping things simple while adding natural textures like timber, cane and rattan with an earth colour pallet that ignites the senses and centres the mind.
Designer Tip:  Instead of scattering individual plants all over the place, the newest idea is to concentrate them in one area of the salon, think plant pots with carved stone or even an arrangement of dried floral like pampas.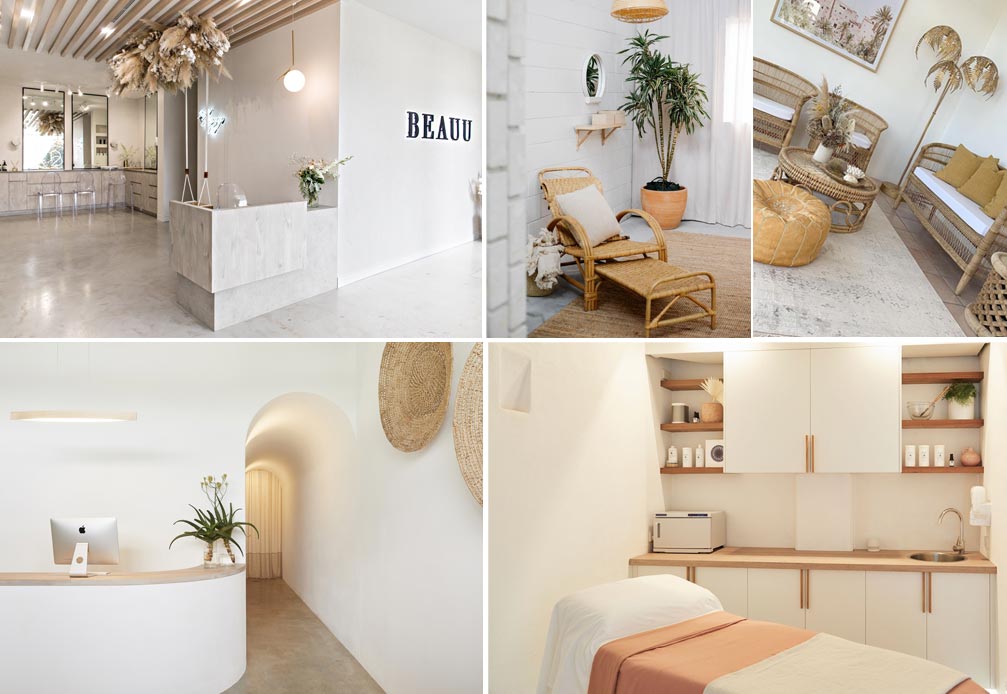 Aesthetica Byron Bay


NSW

@aestheticabyronbay

Beauty Ink
Eyebrows + Skin

WA
@beautyink_perth

Little Company

NSW+VIC

@_littlecompany

BEAUU

NSW

@itsabeauulife

Photo credit: The Palm Co. @the.palm.co
Design: @somethingmoredesign
Arch Way to Heaven
Arches are making a huge come back and are transforming salon interior and decorating across homes, retail and salons.  Curves and classic arches create a luxurious atmosphere of ancient chic, add unique character to modern interior design and enhance the elegance of the space.
Whether it's a doorway, in furniture pieces, or a bespoke wall alcove for your retail products and display, it's no doubt, that arches are here to stay.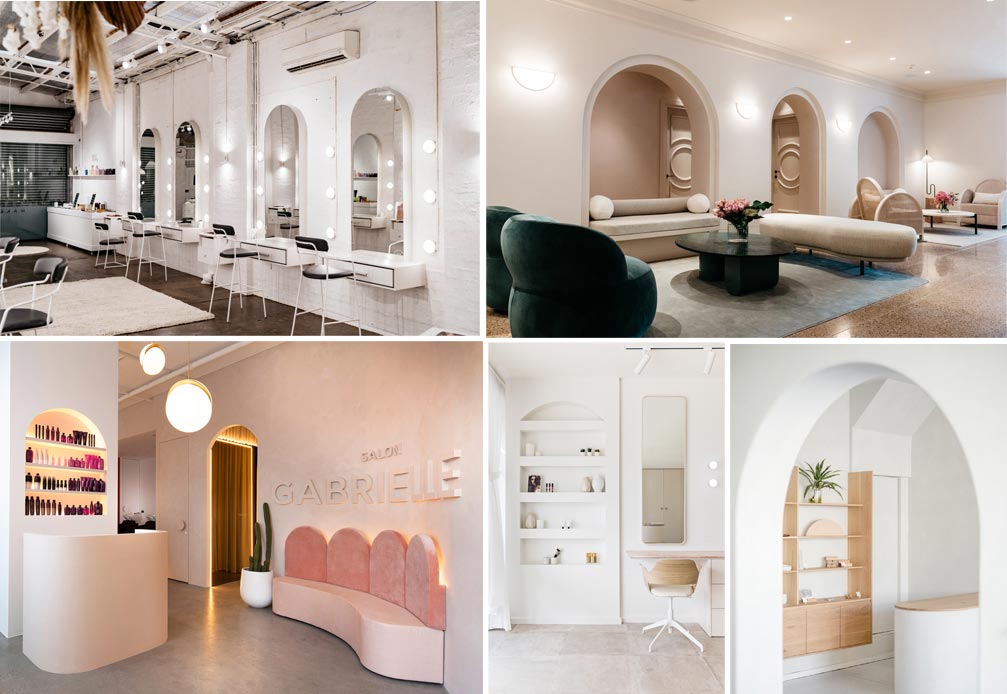 Kristin Fisher Eyebrows

NSW

@kristin.fisher.eyebrows

Hilary Holmes Make Up


VIC
@hilaryholmesmakeup

Salon Gabrielle

VIC

@salongabrielle_

Photo credit: Pinterest
Modern Textures & Patterns
Materials like Terrazzo and Decorative Mosaic Tiles are enjoying a major revival, not just as a material but also as a design feature.  The tiles are either micro and refined or oversized and graphic.  Sculptural forms, touch me textures and a colour palette that is restrained, is combined with natural materials like concrete, timber and glass.  The style is stripped down to its essential elements and the space is left to make the design statement.
Design Tip:  Have a pared-back approach to designing the space. Use colour sparingly, and let the natural textures and patterns be the design focus.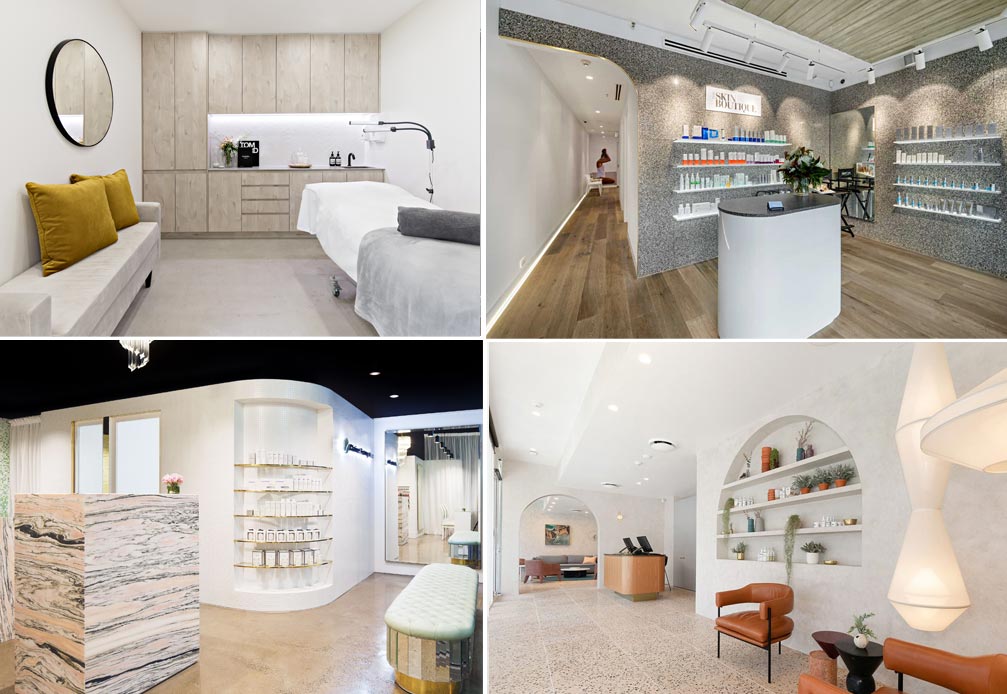 Artisan Aesthetic Clinics

QLD & NSW

@artisanclinics

BEAUU

NSW
@itsabeauulife

Claire Francoise Skin & Body

VIC

@clairefrancoiseskin

The Skin Boutique

VIC

@theskinboutique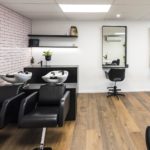 Hairdressing
Salon Spaces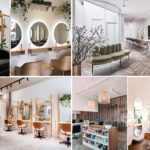 Hairdressing
Salon Spaces