An Indoor Oasis: Kindred human + earth
Beauty
Hairdressing
Salon Spaces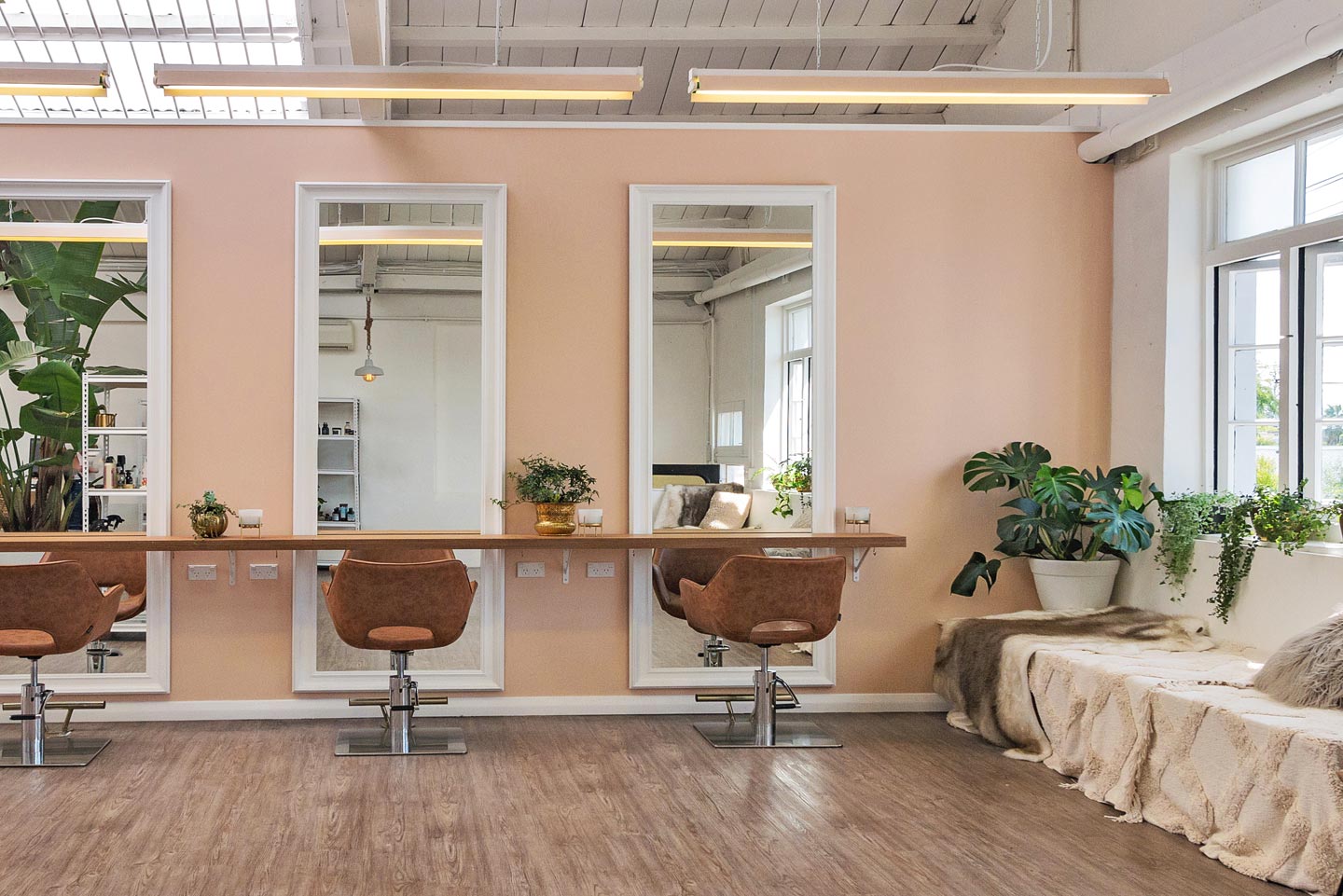 An Indoor Oasis: Kindred human + earth
Human + Earth = Holistic approach to human beauty care
Kindred human + earth is the new platform for Cat Frost, an industry veteran- utilising 26 years of award winning industry experience including 17 years developing Vada Hair and now Kindred Human + Earth Studio.
NZ hair stylist, freelance makeup artist and mother of three, Cat is dedicated to environmentally conscious and natural choices. This salon space was about seeking out ideas and alternatives to reduce the chemical load on both hairstylists and the consumer.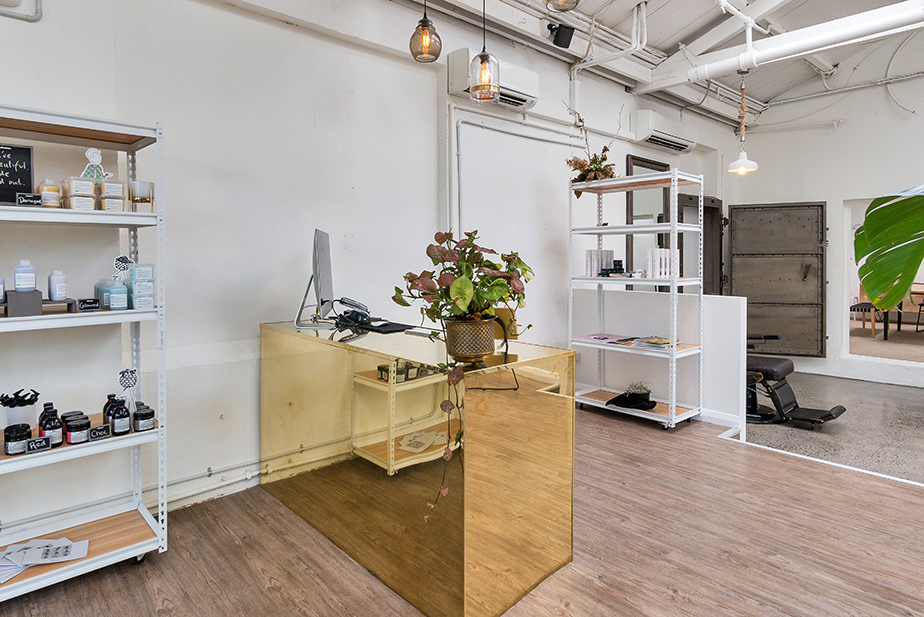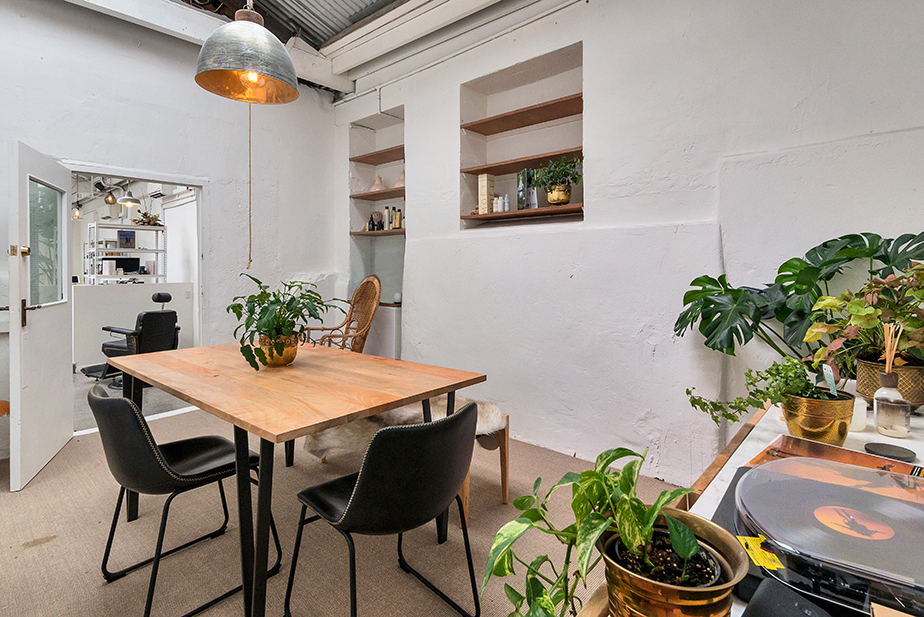 The space
With an eye for good design, The Kindred studio was developed exclusively by Cat who has previously designed four salon fit outs with the assistance of architects and designers.
"I enjoy the creative process in many mediums… whether it be hair, furniture design or interior design. I have always enjoyed the fusion of creative ideas and have worked with designers, artists and musicians to create collaborative works for hair. Designing the Kindred studio is another way of challenging myself creatively and giving life to ideas'
The studio is light filled thanks to the high gabled ceiling. This quality just takes your breath away when you enter the studio and was the key reason that Cat chose the space. The bones are like an old ship– a natural serenity and sense of calm radiate out and the design elements added by Cat are there for this reason also.
The colour scheme was chosen to represent colours of earth, nature and human so there are muted blush tones, soft greens, natural wood, bamboo and plantings.
'Kindred needed to have a feeling of a fresh planet –to be a living breathing space.  We needed trees!"
The large tropical trees and rooftop gardens installed are nurtured by the Kindred team and are all named. The ornamental gardens create a restful space and contribute to air quality.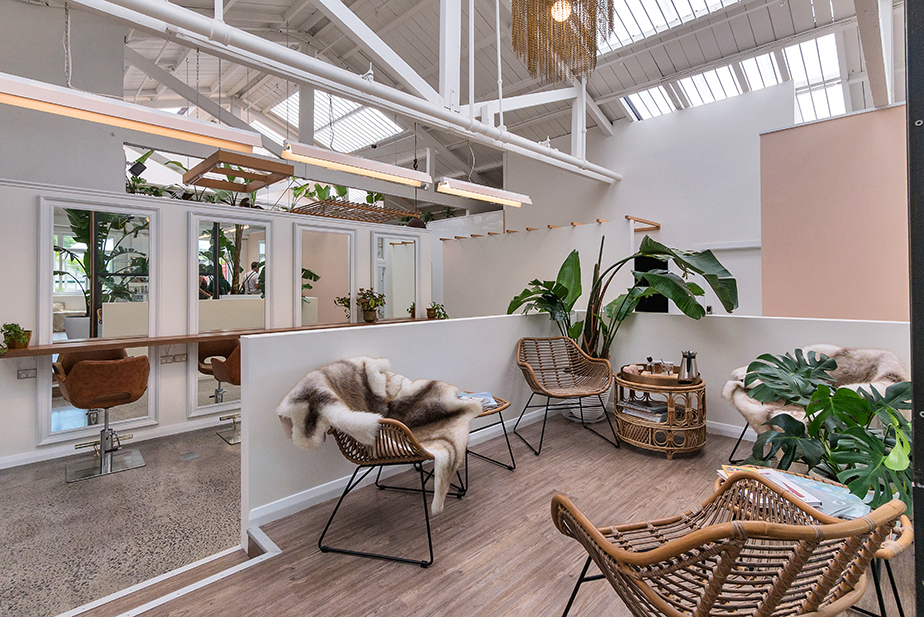 The Basin Area
Cat wanted to eliminate as many discomforts as possible for her clients.  A newly incorporated 'No Speak Zone' and a 'zero black' policy, meant that all furniture chosen for Kindred's space would include Comfortel's tan coloured vegan leather to match the aesthetic.
Many design features were chosen by hand by Cat – including the caramel flecked stone in the hair wash zone – to match the incredible 'custom made' Tan three seater from Comfortel.
The client has full control of positioning their body with no intrusion from the stylist.
A rig pulley system brings antique lights to the rear of the client for us to view toners close up, but with no impact on client comfort.  Clients are also offered eye pillows and comfort blankets.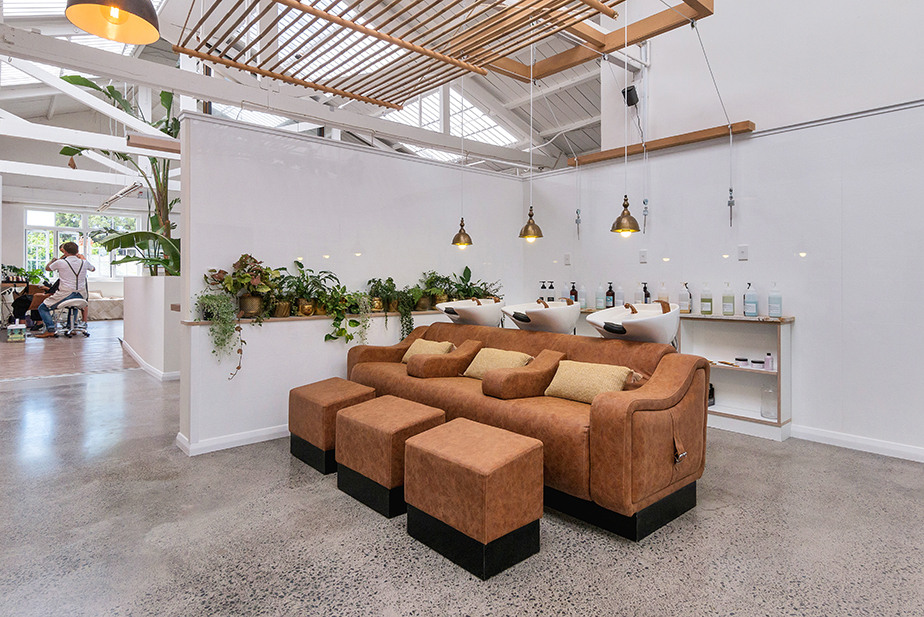 The Styling Area
The main floor space has multiple resting zones so that Kindred clients always feel relaxed and welcome to move around the studio. Vast window seats look out over Douglas Street, where clients can sip quality organic coffee or tea. Cat feels that every part of the experience should be of sensory benefit to the client.
The music is always chosen by Chris King Lead Art Director of UK origins. The music is restful and nostalgic, to take away from the bustle and provide a space to rest. Minimising noise, light, smell and stimuli and giving back mindfully chosen sensory experiences is our key philosophy.
For the cutting zone, Cat chose Comfortel's Chloe Tan Styling Chairs because of their stunning aesthetic and deep bucket seat for client rest. The chairs sit beautifully against the blush walls, brass accents and wall length mirrors.
"Comfortel made the fit-out process incredibly easy and very personalized. Comfortel are true professionals and helped me tailor the look I was after. It's a busy time for any salon owner during fit out and build. Comfortel empathised with this and solved problems on a day to day basis with Kindred during our build."  
Kindred is still taking shape and have stage 2 to complete this year I look forward to working with Comfortel to complete this next exciting stage of the build.
The interior although new, holds many vintage finds. Cat scoured demolition and Trademe for old doors, windows and brass fittings and installed them into Kindred's space. It was important that Kindred provided a sense of coming home, as one would feel coming home to family.  Feedback is proving to agree, Kindred is a hidden Ponsonby gem.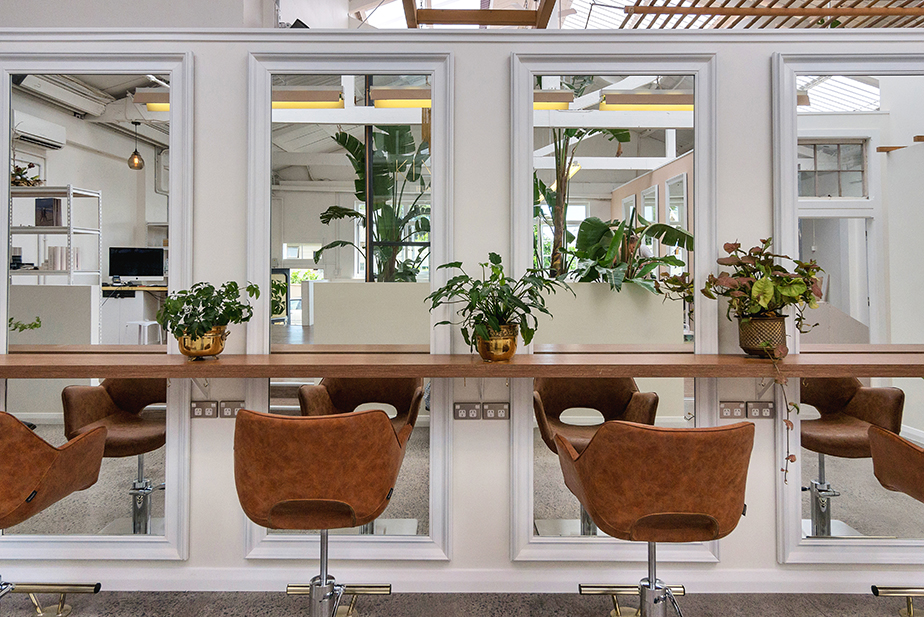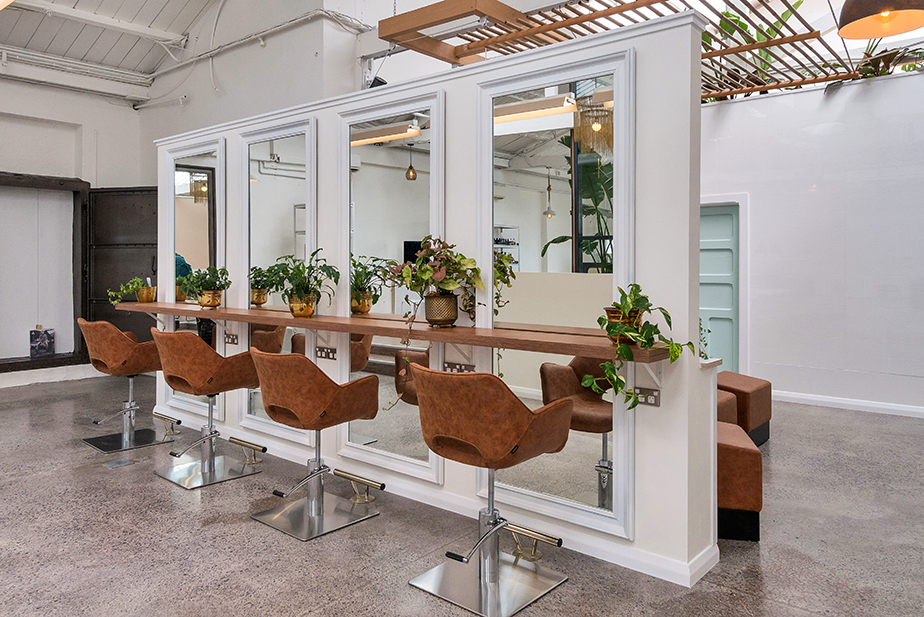 Get the look with Comfortel Salon Furniture
kindred human + earth
www.kindred.net.nz
42 Douglas St, Ponsonby, Auckland 1021, New Zealand
Salon Owner Cat Frost
Salon Furniture  Comfortel Furniture
Salon Interior Design: Cat Frost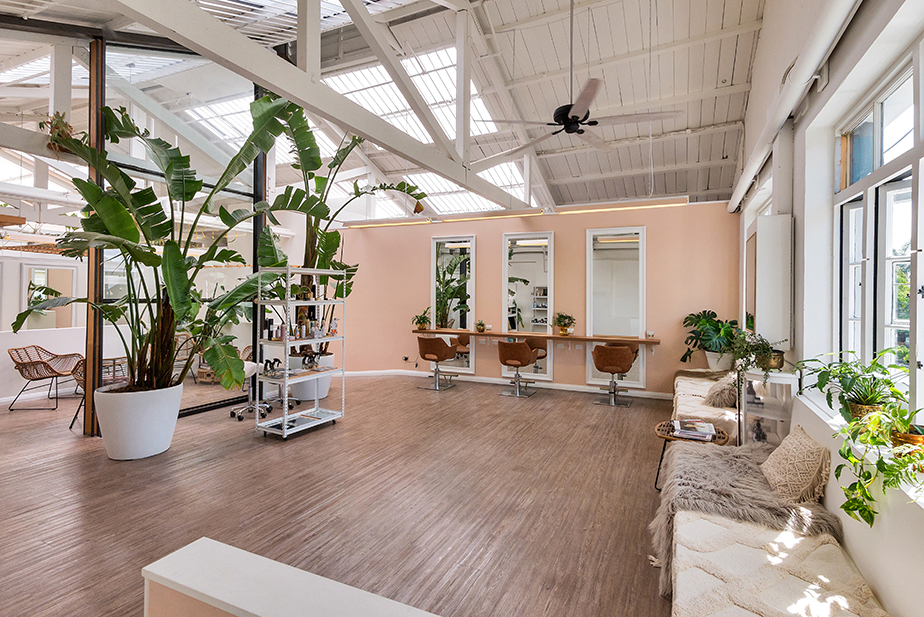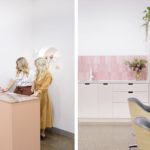 Hairdressing
Salon Spaces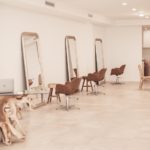 Beauty
Hairdressing
Salon Spaces